Clinical Recruitment
We know that finding even one BCBA or RBT for an open position is difficult, but with the field growing at exponential rates, the need for multiple clinicians and technicians continues to increase.
Through our Hybrid Model, we provide a streamlined pipeline of multiple qualified candidates. We offer an active and multi-level approach to recruiting that gives us the ability to find skilled candidates that match your unique needs and business culture. We go beyond basic technical and clinical skill requirements and take into account many different factors and dimensions to provide your organization and our candidates with a thoughtful match.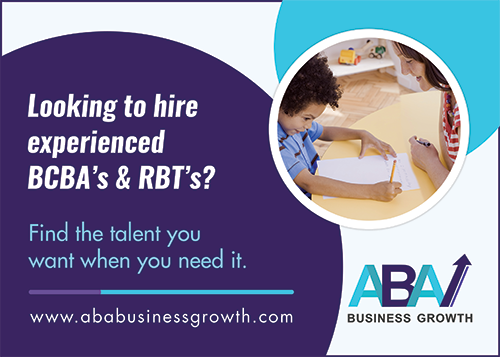 What makes us unique?

We delve deep and take the time to fully understand the organizations we represent and the candidates we serve
We care about your companies' success and are focused on supporting your mission
We look for the right cultural fit between both parties to ensure long-term success
We look for select organizations that use evidence-based ethical practices and standards
We our excellent communicators and work to provide transparency to both companies and candidates so there are no surprises
Your organization will receive:
Our Proven Proprietary Pipeline Methodology
Comprehensive Client Screening
Complete Candidate Background
6-month Turnover Guarantee (conditions apply)